Adult Advisory Council
The Adult Advisory Council (AAC) serves as a critical community champion of the Spina Bifida Association and adults with Spina Bifida. The members of the ACC share their gifts in service to our mission by providing SBA with their expertise; their diverse knowledge of constituent perspectives, their connections to local, national, and international resources, colleagues, and peers; their philanthropic support or other forms of needed assistance.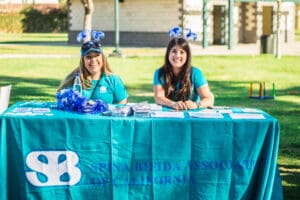 Members provide a diverse perspective on the needs and expectations of their peers and point SBA to valuable community, national, and even international resources. The service term is two years, and members may choose to re-apply at the end of their term.
To benefit from as many adult perspectives as possible, SBA strives to include members from various areas of the country, and diverse socioeconomic levels, ages, ethnicities, professions, and backgrounds.   
The AAC features three committees:
Healthcare for Adults: members of this working group collaborate to identify and decrease health service and information deficits for adults living with Spina Bifida.

Resources and Support: members seek ways to assist their adult peers with their questions about living with Spina Bifida, or connect them to other experienced adults or others who can help them address their needs.

SB-YOU: members inform the content and presenters for SBA's signature educational webinar series designed for and by adults with Spina Bifida. 
Members:
| | |
| --- | --- |
| Amy Saffell | Jonny Bullets |
| Anna Ryan | Karen Cushynr |
| Brian Gutiérrez | Karlin Bruegel |
| Brian Malone | Kristine Takemoto |
| Caitlin Shemas | Kyle Wiebers |
| Callie Saunders | Libby Powers |
| Cameron Williams | Matie O'Connor |
| Charlotte Mountz | Melissa Kaye Ortiz |
| Clarissa Noel | Monica Albert Still |
| Cody Bowman | Nicole Small |
| Danielle Tate | Rachel Chovanec |
| Jaclyn Higa | Randi Brynteson |
| James Beardsley | Robert Owens |
| Jay Dashefsky | Samantha Perez |
| Joseph Slaninka | Victoria Pauley |
Interested in joining the AAC?
Adult Advisory Council members should:
Be adults with Spina Bifida and be familiar with SBA programs and services;

Be able to participate effectively in a collaborative group process, which requires the ability to listen to and work well with other Council members;

Be able to provide feedback in a respectful manner; 

Be open to a diversity of ideas; and

Be able to keep the required information confidential
Please note, this is a VOLUNTEER council. All members who serve on this council are volunteers.
Does this sound like you?
Be sure to apply for the 2023-2024 term. The application period will be open through January 31, 2023.
Resources for Adults with Spina Bifida
We're here to make your life easier. We have information & resources that can help to inform and keep you healthy as an adult living with Spina Bifida.
Resources & Information