October is Spina Bifida Awareness Month—a time to celebrate the hundreds of thousands of people living with Spina Bifida in the United States. Every October, we share anecdotes from our community that challenge us to raise awareness and support those around us affected by Spina Bifida.  As a community, we can do this by spreading the word about Spina Bifida in our own circles or to the larger networks of which we are apart. This is also a great time for us to discover new ways to get involved in awareness and advocacy activities.
Here are 10 things you can do to raise awareness:
1. Donate during Awareness Month
Throughout October, any birthday or awareness Facebook fundraiser will go towards our $15,000 Awareness Month goal! Your support goes towards are jam-packed 2020! We'll be hosting our third annual Teal on the Hill Advocacy Day, second annual Clinical Care Meeting, 4 Education Days, and our SB-YOU Webinar Series, all designed to improve the lives of all those affected by #SpinaBifida. Set up your Facebook Fundraiser.  Or make a direct  Awareness Month donation here.
2. Host a school or workplace Awareness Day
We've seen schools that have a crazy sock day and dress down days. You could host a Teal Awareness Day – where everyone wears teal for Spina Bifida. Events like this are also suitable for the workplace. See if you can host a casual Friday  (everyone pays $5 to dress casually), or make October 25th, World Spina Bifida Day, a "paint the office teal" day, and everyone wears as much teal as they can. Thinking about a school fundraiser? Check out our school form you can give to your school administrators!
3. Stay up to date with all Awareness Month activities with us on Social Media
Over the next month, we will be sharing stories from our community that highlight their unique experiences. We will also be sharing a series of "Top 5" and "Top 10" lists that capture the experience of living with Spina Bifida. Follow SBA on Facebook, Twitter, and Instagram to join in on the fun! Additionally, this year, we're partnering with Redefining Spina Bifida and The Hydrocephalus Association to raise as much awareness as we can about Spina Bifida. Be sure to check them out and follow their social media pages too!
4. Advocate with the Spina Bifida community
SBA is always busy advocating for the Spina Bifida community. When we're not in meetings on Capitol Hill, or working on our annual advocacy day –  Teal on the Hill, we strive to bring awareness and advocate for bills and funding that are important to the Spina Bifida community. Examples of our advocacy priorities include; advocating for a funding increase for the National Spina Bifida Program at the CDC, protecting manual wheelchairs from the competitive bidding process, and investigation into sudden deaths in our adult community. Help us get the word out about these important issues from the comfort of your home by using this advocacy tool.
5. Walk-N-Roll for Spina Bifida
Fall is the busiest time for our Walk-N-Roll for Spina Bifida program! There is a good chance a Walk-N-Roll event might be taking place near you. Don't know what a Walk-N-Roll is? Watch this video! Walk-N-Roll for Spina Bifida is the perfect awareness month activity to engage your friends, neighbors, co-workers, family and more. Invite them to join your team, and spend the day connecting and meeting others in your community! If you cannot make a local walk, join our new program My Walk-N- Roll for Spina Bifida. You pick a time, date, and location that works for you and host your own walk.  For example,October 25, World Spina Bifida Day, would be a great day to host a walk.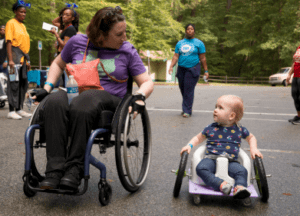 6. Contact your local media
If you're hosting an awareness day, community event, or going to your local Walk-N-Roll, reach out to your local media outlets and ask them to provide coverage of your awareness activities! Newspapers, radio stations, and TV stations are all interested in stories that speak to overcoming adversity and connecting as a community. Here is an excellent resource with tips to get your story covered by local media!
7. Set up a Library display case or information table
Did you know that most public and school libraries will allow you to set up a display case to promote a topic or cause? Your display case can have photos, stories, Spina Bifida facts, brochures, etc. This is a great way to raise awareness about Spina Bifida, disability & accessibility as it pertains to your community! If you're interested in doing this, we can provide you with a fact sheet specific to your state. Contact us at communications@sbaa.org to request a state fact sheet and other materials.
Join Team Spina Bifida
Do you have any interest in hiking the Grand Canyon? Join us for the Team Spina Bifida Grand Adventure. This program, which debuted last year is an all-abilities hike through The Grand Canyon. It's an incredible way to raise awareness on a national level. Or, if you're already planning on running in a marathon or half-marathon, race for Spina Bifida!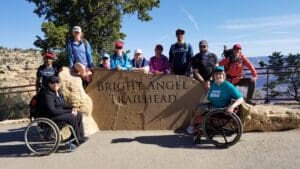 Become informed and stay connected
Sign up for our electronic newsletter! We share Spina Bifida community news, research updates, local and national events, advocacy opportunities, and information on education and support. Just visit our website, and go to the small teal "subscribe" button at the bottom of the page.
Share your story
Spina Bifida Awareness Month is an incredible time to share stories, connect with each other and spread awareness about Spina Bifida. Every year we ask members of our community to share their stories on social media and with us. If you have a story you want to share that will help raise awareness about Spina Bifida, email us at communications@sbaa.org. We can't promise that we'll get to share it, but we can promise that every story shared helps raise awareness! If you decide to share your story on social media, hashtag #MySBStory so that others can easily find it.