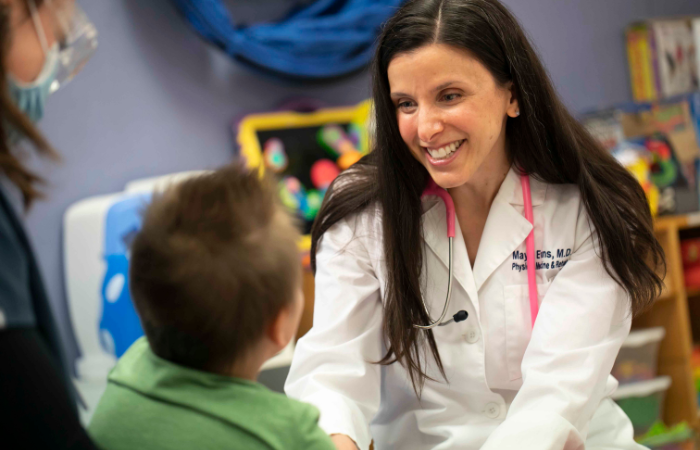 Written by By Maya Evans, M.D.
Many parents wonder, should school and education be prioritized while their children are receiving medical care for spina bifida? The answer is 100% yes. 
Spina bifida is often described as a "snowflake condition" because everyone with spina bifida is different. Despite this, most people with spina bifida will need some school modifications, and the spina bifida clinic team members can be a great resource. 
It's crucial that a child and their family have access to a multidisciplinary program experienced in caring for children with spina bifida, and education is sometimes overlooked. 
Many teens and children with spina bifida benefit from school accommodations to maximize their learning and social development. Support in navigating the education system and its intersection with their child's health would benefit everyone.
As medical director for the spina bifida program at Shriners Children's Northern California, I am committed to making sure my patients and families have the resources they need to live as independently as possible. 
Here are a few aspects to look for when it comes to finding care that prioritizes education, so that you as parents can be the best advocates for their children who are living with spina bifida. 
Seek an Education Program that Cares for your Child 
Here at Shriners Children's Northern California, we are so fortunate to have an education and transition coordinator as part of our multidisciplinary spina bifida team. I have seen first-hand the difference her work makes in lives of our patients and their families. 
We are able to give children who are receiving inpatient care and clinical care a school program that serves as a bridge between the home and hospital by providing them a flexible, motivational educational experience. Inpatient stays care can range from a few days or weeks to months! Our school program empowers patients to take control of their academic future despite the challenges that accompany their diagnoses and treatments. 
Giving children a familiar routine of school and the chance to experience educational growth while at the hospital makes a difference. Our individualized instruction can help reduce anxiety and is often a highlight of a child's hospital experience. 
Access to accredited educators while they are at Shriners Children's often leads to students getting assistance with enrolling into other programs with 504 and IEP planning if home schools are not able to support the patient as they transition out of care. 
From the moment a child enrolled in K-12 enters our care, the education coordinator and credentialed teacher work with the child's teachers and school to deliver a continuation of education until they return to their home schools. 
A Focus on Community Re-entry 
Returning to school after a prolonged hospital stay can be both overwhelming and exciting, so the mix of good and bad can leave them feeling stressed. Community re-entry programs are essential for a child with spina bifida in terms of feeling confident with their lifestyle and abilities. 
Our program facilitates adjustment upon a patient's return to school by educating a patient's community, teachers and peers. Teachers make personalized videos for patients where they discuss the child's abilities, needs and necessary accommodations. Parents can use these videos to educate teachers and coaches to aid with transitioning out of the hospital. Education coordinators also create personalized picture books describing a patient's recovery story to help them share their story with peers. Educators go as far as attending regional on-site visits to a child's school to make sure a return to school outside of the hospital is a smooth as possible.  
This essential community support from teachers and peers ensures the transition is a healthy, supportive, safe and positive process. 
You are Your Child's Biggest Advocate
Remember that knowledge is power and you know your child best! Know your child's rights and immerse yourself in support groups, blogs like these from Spina Bifida Association, and local, regional and national networks. It is imperative to communicate with your care management team that you want to prioritize educational/vocational services as part of your child's care. They can provide support to connect you and your family with appropriate programs allowing your child opportunities to excel with the fewest restrictions.
Shriners Children's school programs accommodate children of all abilities. General education and special education are provided for children grades K-12, including assisting patients in earning a high school diploma equivalent or certificate if a traditional diploma program is not appropriate. 
Life experiences do not stop after traditional school years, so we also provide patients with exploration tools and resources to delve into higher education, vocational possibilities, independent life skills and community service opportunities. If you have questions about how we can support your child's interests and their education, don't hesitate to ask! 
We understand the complex nature of spina bifida, and it is our goal to make sure all patients benefit from the expertise of the team. Education is a key component of care, and it's imperative that we treat the whole patient, including the mind, body and spirit. 
The expertise, experience and environment of care create a synergy that distinguishes our specialty pediatric care at Shriners Children's. Our patients live amazing lives and are able to reach for their dreams as a result. Find more information about the Shriners Children's spina bifida program.
This blog was sponsored by Shriners Children's Hospital