Welcome to our Teal on the Hill Virtual Exhibit Hall. Just like you would find booths at scientific conferences, here you'll find our featured sponsors and exhibitors who made Teal on the Hill 2020 possible. Please take some time to check out these amazing partners and the products and services that they have to offer the Spina Bifida community.
Blue Sponsor
Smith+Nephew, Inc.
900 7th Street, NW, Suite 735
Washington, DC 20001
(202) 898-5961
Web: www.smith-nephew.com
Smith & Nephew is a global Medical Device portfolio company, that has been trading for over 160 years, and operates in more than 100 countries. Our global franchise specialties are in Orthopedics, Sports Medicine & ENT, and Advanced Wound Management. For more information, contact Mona Thinavongsa at mona.thinavongsa@smith-nephew.com or 202-898-5961.
Additional Resources: https://www.smith-nephew.com/key-products/
Silver Sponsors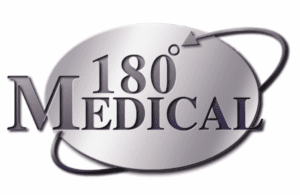 180 Medical
(877) 688-2729
Web: www.180medical.com
E-mail: info@180medical.com
Facebook: www.facebook.com/180medical
180 Medical is one of America's leading nationally-accredited providers of sterile-use intermittent catheters, ostomy products, and incontinence supplies. Because of their extensive product knowledge and quality customer care, they are a referral source for some of the top pediatric hospitals, urologists, rehabilitation facilities, and other healthcare practices in the United States. 180 Medical is in-network with thousands of health plans and insurance networks, including Medicare and state Medicaid programs.
The heart of 180 Medical is based in our founder Todd Brown's inspiring story. In 1994, he was injured in a motocross accident that left him paralyzed from the chest down. After rehab, he had a lot of new challenges to face, including dealing with medical supply companies who didn't seem to understand his needs or their own products. Todd knew others must be facing similar trials, so he decided to create a company that could positively impact lives. Since then, 180 Medical has stayed dedicated to values of compassion and integrity while providing high-quality products with dependable customer service and shipping.
180 Medical is honored to serve a wide range of customers with diverse and unique needs, including men, women, and children. Their highly-trained specialists offer compassionate care paired with unparalleled product knowledge, so they can help you find the right supplies while offering educational materials for learning how to use your supplies hygienically.
180 Medical offers free insurance billing, free samples, and free shipping right to your door. For more information, contact info@180medical.com.
Additional Resources:

Avion Pharmaceuticals
888.61.AVION
E-mail: info@avionrx.com
Web: www.Avionrx.com
Avion Pharmaceuticals' leadership team has more than 90 years of combined experience within the pharmaceutical industry, working in such specialties as women's health, pediatrics and cardiology, in positions of sales, marketing, manufacturing and pharmaceutical distribution management. Avion is focused on providing innovative products for women and dermatology patients across a continuum of care. We have a commitment to quality and are determined to deliver the right products to improve patient lives and well-being. For more information, contact Mark Thomas at mthomas@avionrx.com.

Hollister Incorporated
2000 Hollister Drive
Libertyville, IL  60048
1-888-808-7456
E-mail: HollisterTeam@Hollister.com
Web: www.hollister.com
"VaPro Plus™ No Touch Intermittent Catheters
With 100% No Touch Protection, whatever you touch won't touch VaPro catheters.    
• The protective tip helps reduce the risk of carrying bacteria into the urinary tract. 
• The protective sleeve allows for the catheter to be gripped anywhere. 
• The combination of protective tip and sleeve creates a no touch system that is easy to use. 
• VaPro Plus catheter has an integrated 1000ml collection bag for catheterization at home or on-the-go.
Read Instructions prior to use.  Rx Only.
Learn more at www.Hollister.com/VaProPlus
Hollister Secure Start Services
We're here to help!
• We are dedicated to ensuring that you feel supported, confident and have access to your products. Our team can be reached by calling 1.888.808.7456 or through our website.
• We encourage you to create a profile on our website. This will enable Hollister to keep in communication with you through email with any important or needed updates. You can create this profile by visiting: www.Hollister.com/ConsumerServices
Exhibitors
ABLEnow
844-669-2253
Email: customerservice@able-now.com
Web: www.able-now.com
Open your ABLE account today with ABLEnow, one of the fastest-growing ABLE programs in the country. Save for today's needs or invest for tomorrow in a simple, affordable and tax-advantaged account that won't impact certain disability benefits. ABLEnow accounts are made possible by the Achieving a Better Life Experience (ABLE) Act, which authorized states to establish tax-advantaged ABLE savings programs. As the Virginia-sponsored ABLE savings program, ABLEnow is administered by Virginia529.
Additional Resources: