October is Spina Bifida Awareness Month – a time to celebrate the hundreds of thousands of people living with Spina Bifida in the United States and beyond. Every October, we share anecdotes from our community that challenge us to raise awareness and support those around us affected by Spina Bifida. As a community, we can do this by spreading the word about Spina Bifida in our own circles or other larger networks. This is also a great time for us to discover new ways to get involved in awareness and advocacy activities. Check out our 2022 Spina Bifida Awareness Month page. 
Here are 10 ideas you can do to raise awareness:
Engage in Awareness Month activities, join us on Social Media
During October, we will highlight stories from our community that showcase their unique experiences. We'll also have graphics you can use to raise awareness from your own social channels. Follow SBA on Facebook, Twitter, and Instagram to join in on the fun! Be sure to use #SBAM2022 and #SpinaBifidaAwarenessMonth as you post throughout the month. If you want to get started now, you can share this graphic: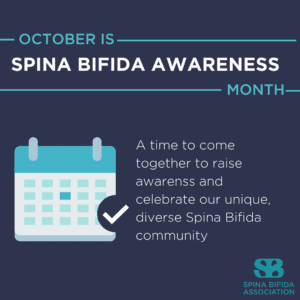 Host a school, organization or workplace Awareness Day
We've seen schools that have a crazy sock day or dress-down days. You could host a Teal Awareness Day – where everyone wears teal for Spina Bifida. Events like this are also suitable for the workplace. See if you can host a casual Friday (everyone pays $5 to dress casually and the money is donated to SBA), or make October 25th, World Spina Bifida Day, a "paint the office teal" day, and everyone wears as much teal as they can. Thinking about a school fundraiser? Check out our school form you can give to your school administrators! Be sure to send any pictures you take to SBA and we'll share them across our channels!
Raise your voice and share a story
Spina Bifida Awareness Month is an incredible time to share stories, connect with each other and spread awareness about Spina Bifida. Every year people get creative with how they share stories to raise awareness. Everything about you and that you've gone through, big or small, can raise awareness. Upload a short video or just share a small story along with a fact on your social media pages.
Do you want to share a story on our social media pages? We'd love to feature you, fill out this form.
Advocate with the Spina Bifida community
SBA is committed to advocating for the Spina Bifida community. When we're not in meetings on Capitol Hill, participating in coalitions, or working on our annual advocacy day – Teal on the Hill , we strive to bring awareness and advocate for bills and funding that are important to the Spina Bifida community. Raising awareness is a yearlong activity. Reach out to your local legislators and request in person meetings for local impact. Don't know where how to get started? Email us for help.
Walk-N-Roll for Spina Bifida
Walk-N-Roll is SBA's largest annual fundraiser for community programs and national research, advocacy, education, and support. This family-friendly event highlights a non-competitive one-mile walk/roll, educational resource fair, games and activities, and amazing opportunities to connect. Find a Walk near you here. If you do not live near a Walk location, celebrate by participating in a Walk-N-Roll Your Way where you decide the activity and then on October 1st, to kick off #SBAM2022, post on the Walk-N-Roll Your Way Facebook event page.
Contact your local media
If you're hosting an awareness day, community event, sharing a story, or participating in Walk-N-Roll, reach out to your local media outlets and ask them to provide coverage of your awareness activity. Newspapers, radio stations, and TV stations are all interested in stories that speak to awareness and connect our broad community. If you need help getting started, send us an email. Check out our 2022 Spina Bifida Awareness Month page.
Set up a library display case or information table
Did you know that most public and school libraries will allow you to set up a display case to promote a topic or cause? Your display case can have photos, stories, Spina Bifida facts, brochures, etc. This is a great way to raise awareness about spina Bifida, disability & accessibility as it pertains to your community!
Become informed and stay connected
Sign up for our electronic newsletter! We share Spina Bifida community news, research updates, local and national events, advocacy opportunities, and information on education and support.
Make a new friend!
Are you on social media? If you are, try searching #SpinaBifidaAwarenessMonth or #SBAM2022. We are always stronger together, and if you connect with someone new you might not only make a new friend, but you might make a difference in someone else's life. Need a place to start? See if there is a chapter or SB Connect near you.
Donate! During Awareness Month your donations mean twice as much. Every dollar you donate will be matched.
Do you know how life-changing your donations are for our community? This year, we've had hundreds of calls to our National Resource Center. All these calls are from people in our community who are looking for critical and important information and support. Your donations are what allow us to continue to build a better and brighter future for all those impacted by Spina Bifida. Will you continue to support our community? Throughout the month of October your gift to SBA will be DOUBLED. Make your tax-deductible donation here.
Visit our 2022 Spina Bifida Awareness month webpage to stay connected all month long!