When Lori Neal was about 4 months pregnant with her first child, she found out that he had Spina Bifida. Lori's immediate reaction was disbelief and anger about how this could happen to her. She went online to learn more about what this would mean for her and her child, but the "gloom and doom" she found only instilled more fear: paralysis, bladder and bowel issues, speech delays, etc.  Shortly after the diagnosis, she recalls a time where she was driving past children who were playing baseball and had to pull over, crying that her child would never be able to do that.  
Lori and her son Julian, now 12, live near St. Paul, Minnesota.  While being a single mom to Julian, who is also on the autism spectrum in addition to having Spina Bifida, hasn't always been easy, Lori has leaned on support and is determined to try to make the world a better place for Julian and others with physical challenges.
How would you describe Julian?
Julian is funny, charismatic and outgoing. Though Julian has some speech and learning delays, he finds a way to work around them – and he's the best speller in his class! He's very strong-willed and opinionated, but also a very loving child.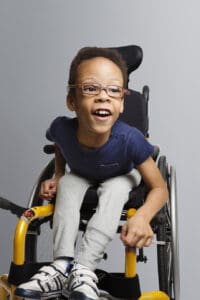 Julian has had some behavioral challenges starting around age 3, but a behavioral therapist has helped tremendously.
What support resources did you have to help you manage?
During her pregnancy, Lori had the support of the VA. She did not have a problem finding most anything she needed. Lori is in a local Spina Bifida Facebook group and uses it as a source of information, and that's where she was actually first introduced to Coloplast and Peristeen® Transanal Irrigation System (now Peristeen® Plus). 
What impact has Peristeen had in Julian's and your life?
At age 5, Julian was the first child to be trained on Peristeen in Minnesota. Before then, bowel management was a daily challenge. With Peristeen, it's much easier for Lori to perform Julian's irrigations by herself, which makes the journey a lot more bearable. 
Today, they are in a good place with MAGEC rod surgery that has straightened out his spine combined with Peristeen irrigations every other day and Miralax once or twice a week. They've found their rhythm – Lori is able to get a break for herself by not having to do an enema every day, and Julian enjoys playing on his iPad during his irrigations.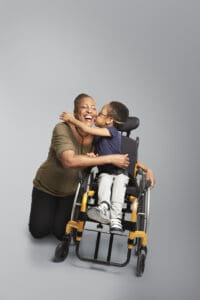 How have your hopes for Julian's and your future changed?
Looking back, Lori doesn't know why she was so upset when she found out about the diagnosis. Though it's been difficult, "I am happy to carry my burden… I feel so blessed to have my child."  
Lori is passionate about making a change in accessibility, which is why she is pursuing a degree in a major she designed herself: Multimedia and the Art of Parenting Special Needs Children. It should not be such a struggle for people who have no other options, to simply get from place to place without worry.
What advice do you have for parents – or expectant parents – of children with Spina Bifida?
– Be flexible
– Appreciate the help you have – and don't be afraid to ask for help!
– Use the resources that are out there – and if you don't know where to find resources, ask your doctor or someone you trust!
Learn more about Peristeen® Plus Transanal Irrigation System on the Coloplast website here.
Lori is the parent of a Peristeen® Plus user who has received compensation from Coloplast to provide this information. Each person's situation is unique so your experience may not be the same. Talk to your healthcare provider about whether this product is right for you.
Prior to use, refer to product labeling for complete product instructions for use, contraindications, warnings and precautions.
This blog post and content is sponsored by Coloplast Corp.