Welcome to SBA's first-ever Kids Adventure Week!
Incorporating elements of an in person overnight camp into a virtual program where children grades K-8 can participate. Kids Adventure Week is made with children from our Spina Bifida community in mind. Daily activities focus on dexterity, creativity, STEM, and physical movement appropriate for varying cognitive and physical abilities. Participation in this program provides social connections to children with similar interest and experiences, a focus on learning and mindfulness, and a whole lot of fun!"
Registration FOR THE 2021 EVENT IS CURRENTLY CLOSED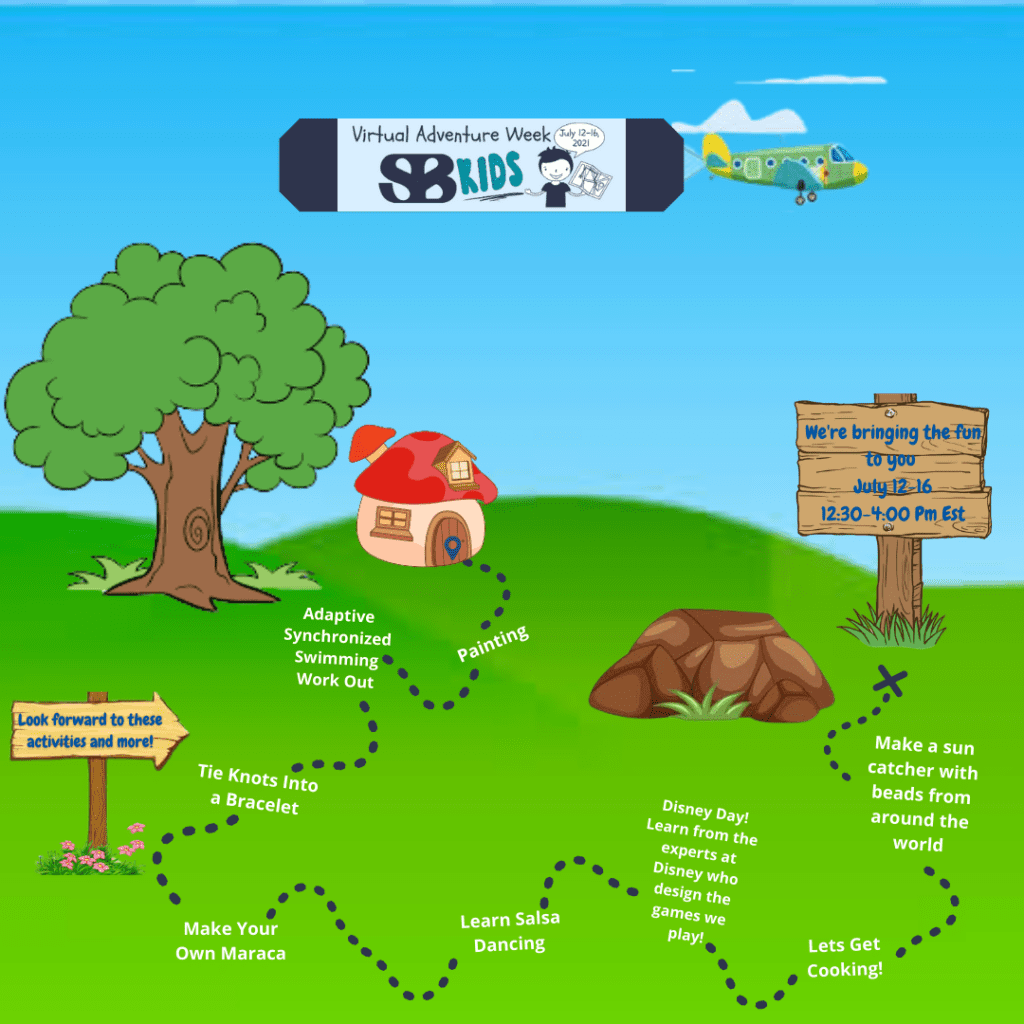 Program Logistics
When: Monday, July 12 – Friday, July 16, 9:30am – 1:00pm pacific/12:30pm – 4:00pm eastern daily
Where: All activities will take place via Zoom. Families participating are responsible for arranging device and internet access during program times. 
Who should attend: Our schedule has been developed by and for families with children with Spina Bifida. Siblings are welcome to attend, but each attendee must be registered. If you are a parent with Spina Bifida, you children can attend as well. Program activities are geared toward children entering grades K-8. Some sessions will be split by age levels, while some sessions may be combined, depending on registration numbers and/or activity. While this event has been planned by our Chapter network, the program is open to all.
Registration Fee: $100 per child. 
What's included: Your purchase includes access to all scheduled activities plus an exclusive SBA Kids Adventure Week Activity Box, which includes the majority of necessary materials for the week (see FAQs 2 and 3 below for additional details about supplies).
FAQ:
Where can I find the schedule? Can kids complete daily sessions independently? 

Our

 sessions 

are designed for kids to do projects independently and develop confidence through hands-on projects, experiments, games, challenges, building, and fun! *NOTE: Some children may require occasional assistance from an adult. Check out our agenda

 HERE.
What supplies are necessary for the scheduled activities? 

Most supplies necessary for the week will arrive in your child's Activity Box (see below), however, families should have some general supplies on hand, such as 1 paper grocery bag to store projects, scissors, paper, markers, crayons, pencils, tape, and glue. A few perishable items (TBA) will be necessary for our "cooking class."

When will I receive my Activity Box?

 

Your child's material box will be mailed June 24 to ensure on-time arrival. The box will include most items necessary for the week (see exclusions in the previous question). Please do not open the box when it arrives. We will have an unboxing ceremony together, details to come.

Can I view sessions later? 

We are excited to bring you the opportunity to connect LIVE via Zoom with your program leader for all Adventure Week sessions. Sessions will not be available on-demand.

What is your refund/cancelation policy?

 

Due to the nature of this event, including purchase of materials and session leader recruitment, the following refund/cancelation schedule is available: Full refunds are available through May 9. From May 9-June 1, a partial refund may be made available on a case-by-case basis. From June 1 on, no refunds are available. Refunds or credits will not be issued for any missed or partial days. Thank you for your understanding.