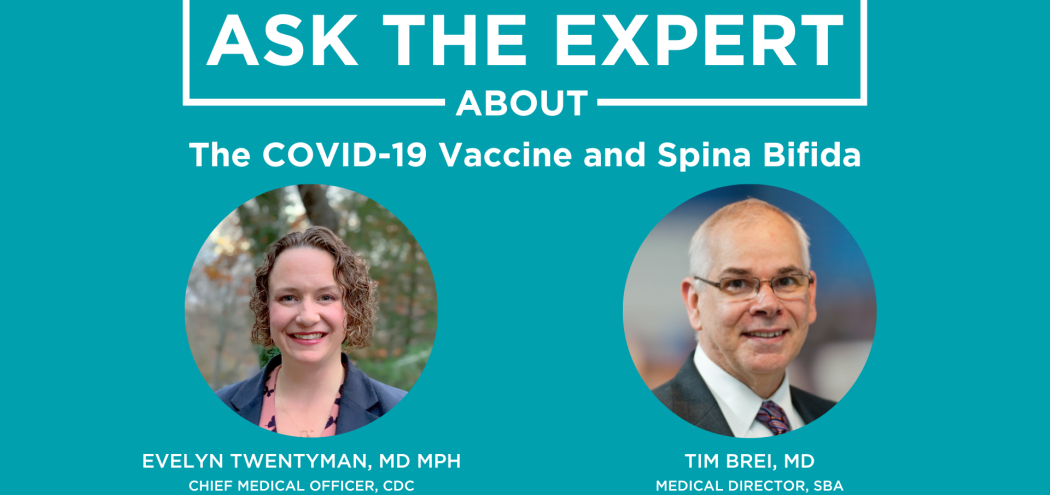 As COVID-19 continues to impact our world, there are still many questions the Spina Bifida community has about the COVID-19 vaccines. The Spina Bifida Association (SBA) hosted an 'Ask the Expert' webinar session to address these questions and bring our community up to speed on the latest COVID-19 news and information.
We were joined by Dr. Evelyn Twentyman, Chief Medical Officer for the Centers for Disease Control and Prevention, and Dr. Tim Brei, Medical Director for the SBA, who is also an adult with Spina Bifida.
The threat of COVID-19 is not over. Masks mandates and travel restrictions are lifting, but COVID-19 is still prevalent within the United States. Since the pandemic began, there have been over 85 million cases in the US. On average, there are still over 100,00 new cases per day. To help reduce the spread, Evelyn recommends getting vaccinated and boosted with a COVID-19 vaccine.
Vaccine safety and effectiveness. During the webinar, Evelyn shared the most up-to-date data on the COVID-19 vaccines, including the fact that over 221 million Americans have been vaccinated. She shared the science behind the vaccines that ensure they are safe and effective at reducing the risk of hospitalization and the spread of the disease.
COVID-19 vaccines for children and teens. The CDC has just recently established recommendations for vaccines in patients six months and above, which does include children with Spina Bifida. The only children who may have a negative reaction are those who could have anaphylactic reactions to any of the ingredients in the vaccines. A breakdown of all vaccine ingredients can be found here.
If you have Spina Bifida and are curious whether or not you should get a COVID-19 vaccine, then we recommend watching this webinar and speaking with your healthcare provider.
Key takeaways:
Understand how safe and effective the COVID-19 vaccines are, including for those with Spina Bifida
Learn when vaccines should be administered and boosted for different age groups (now available for those as young as six months) and those who are immunocompromised
See how many hospitalizations are still happening due to COVID-19 in the United States
See how many adults are vaccinated in the United States
Understand the meaning of herd immunity, and why it's less effective than some people may think
Speaker Bios:
Dr. Evelyn Twentyman
Evelyn Twentyman is a medical epidemiologist who serves as Chief Medical Officer for the CDC COVID-19 Response Vaccine Task Force. In this capacity, she coordinates the work of multiple teams to characterize the safety and efficacy of COVID-19 vaccines, help determine policies to guide use of these vaccines, and communicate their optimal clinical use. When not serving CDC's COVID-19 Response she works to optimize the health equity of chronic disease prevention efforts. She completed her medical residency at Columbia University and completed her graduate degree in public health at Tulane University.
Dr. Timothy Brei
Dr. Brei has been SBA's Medical Director since 2005.
His commitment to serving children and adults with Spina Bifida is unparalleled as evidenced through his pediatric medical practice and his guidance in research activities to improve the lives of people living with Spina Bifida.
Dr. Brei is a developmental pediatrician at Seattle Children's Hospital and a professor at the University of Washington School of medicine.
He, played a major role in developing   the first Spina Bifida World Congress on Research and Care in 2009, and has led the planning and execution of the four World Congresses that followed.
Dr. Brei, along with a steering committee, lead our efforts to develop the Guidelines for the Care of People with Spina Bifida on 24 key topic areas from birth through adulthood
Dr. Brei advises SBA's Professional Advisory Council in the areas of transition and adult care, physician engagement, science and research, and takes part in creating and updating resources for clinicians and the general public.
Through the National Resource Center, Dr. Brei answers complex medical questions and helps to find physicians to treat complicated care issues for people with Spina Bifida around the world.