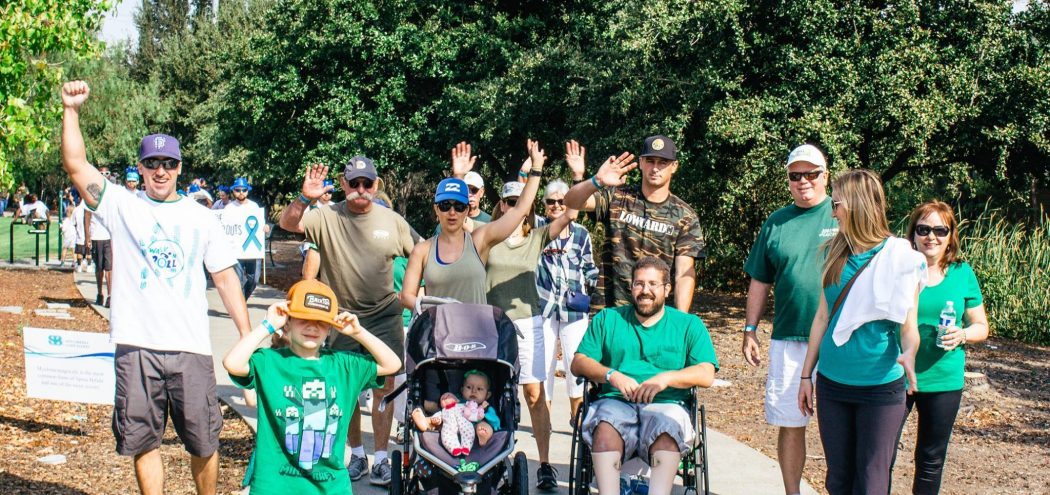 Louis Linebarger is a pro when it comes to Walk-N-Roll for Spina Bifida. As an adult with Spina Bifida, he not only sees the value in attending his local Walk-N-Roll, but also the value in fundraising through Walk-N-Rolls. In the three Walk-N-Rolls he's attended, Louis has raised over fifteen thousand dollars to support Spina Bifida research, advocacy, education, and support services.
It's no secret that asking for money can be an intimidating task. But fundraising is different than asking for money; just ask Louis! Louis' responses to our questions about his success will inspire you to reach your Walk-N-Roll team goals and make the greatest impact. 
What originally inspired you to get involved in your local Walk-N-Roll? What continues to motivate you to be involved and support the cause?  
As an adult living with Spina Bifida, I wanted to get more involved with the Spina Bifida community. When I heard about the Walk-N-Roll for Spina Bifida for the first time a few years ago, I figured this would be a great way to get involved, network and meet people in the community. Additionally, raising money for the Spina Bifida Association (SBA) is a great cause because, as an adult with Spina Bifida, I know firsthand just how important the SBA and affiliated organizations are to people with Spina Bifida and their families.  
The first Walk-N-Roll event was that I attended was so much fun. There was a great sense of community and it really was inspiring to see how many friends and families really cared for and supported their loved one with Spina Bifida. Also, I was so surprised at how generous everyone was regarding my fundraising efforts that it has made me want to try to beat my previous year's fundraising goal every year since. 
This event is also partially what inspired me to join the Spina Bifida Association of Northern California Advisory Council. I wanted to get even more involved with the Spina Bifida community by helping to plan the event. I have been encouraged by how this event has evolved over the last few years, both in raising awareness about Spina Bifida, participation growth, and in the number of activities and sponsors on the event day. Being on the Advisory Council has also allowed me to witness firsthand how the funds raised at this event have helped families and persons with Spina Bifida who really need it.
2. What do you think has made you so successful?
Personalization. As an adult living with Spina Bifida, this is is a personal cause that I am passionate about.  When setting up my team page and personal page, I took the time to replace the stock photos with personal photos of me and last year's team. I also made sure to check that all of the text on my team page and personal page was accurate, such as our fundraising goal and my personal connection to Spina Bifida. This sounds like a small thing to do but I think it's important to show those you are asking to donate that you care about this issue and that you took the time to personalize your pages. Hopefully, this comes through to those I ask to donate so that they feel they really are donating to a worthy cause that both they and I can be proud of supporting.  
Timing and reminders. It's important to get the word out early and send updates and reminders every few weeks and months, depending on when you started the process. People may intend on donating, but because most are busy, they may get side-tracked and simply forget to donate unless you remind them regularly. 
Another way I build excitement and remind people to donate is to use email, Facebook and LinkedIn to send updates every few weeks on how far along our team is on our fundraising goal. Having a reminder every few weeks raises the chances they will eventually get around to making a donation.
Social media and email! I took advantage of the links provided on the Walk-N-Roll website to share the event information on Facebook and LinkedIn. In my opinion and experience, social media can be a huge factor in getting donations. And asking people to share your link on their Facebook page helps to get the word out to even more people. 
Finally, I make sure to personally thank each individual who made a donation to my team, whether it's through text, email, or a phone call. I have found that most people appreciate being acknowledged, even if it's just a simple thank-you text, and will be more likely to donate in the future if you recognize their generosity.
3.How do you identify who to ask to donate to your Walk-N-Roll fundraising efforts?
I believe in casting a wide net and asking as many people as I can think of. It doesn't hurt to ask, and the worst they can do is say "no." You'd be surprised at those who are willing and happy to donate (my insurance agent and some former colleagues, to name a few!)
Next, I send out an email to every single contact in my address book using the sample email message available Walk-N-Roll website — but am always sure to personalize it with my own information. 
4.What are some tips on how to "make the ask?" (What is a comfortable way for you to ask someone to support you?)
Approach potential donors in whichever way is most comfortable for you; whether it's face-to-face, email, text message, social media, or any combination of these. I use the sample text from the Walk-N-Roll website to send out a personal email message that includes my own information to every single contact in my address book using the sample text available. I also post about it on Facebook and LinkedIn.
5. What's are your top tips for someone who isn't sure how to get started?
Start off by using the email template provided on the Walk-N-Roll website (www.walknrollforsb.org) and sending it out to everyone in your email contacts (the website makes this very easy to do.) Also, use the links provided on the same website to share this info on your social media accounts. Hopefully, you will see the donations start to roll in over the next few weeks. Be sure to thank everyone personally who has made a donation.
Thanks everyone, and good luck!