Welcome to our Education Days Virtual Exhibit Hall. Please check out the "booths" below to learn more about the products and services that our 2022 partners have to offer the Spina Bifida community.

Hollister Incorporated is an independent, employee-owned company that develops, manufactures, and markets healthcare products worldwide. The company develops and manufactures products for ostomy care, continence care and critical care, and develops educational support materials for patients and healthcare professionals. 
Hollister Incorporated
2000 Hollister Drive, Libertyville, IL 60048
E-mail : [email protected]
Website: https://www.hollister.com/en
Resources:

Coloplast develops products and services that make life easier for people with very personal and private medical conditions. Working closely with the people who use our products, we create solutions that are sensitive to their special needs. Our business includes ostomy care, interventional urology, continence care, wound & skin care.
Coloplast
1601 West River Rd
Minneapolis, MN 55411
www.coloplast.us
Resources:
Follow Coloplast on Social Media:
All of Us Research Program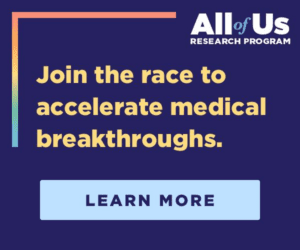 The All of Us Research Program is inviting one million people across the U.S. to help build a diverse database with participants from all backgrounds. SBA is proud to participate with All of Us to ensure that people with Spina Bifida are included in important research initiatives to learn how biology, lifestyle, and environment affect health.
Resources: