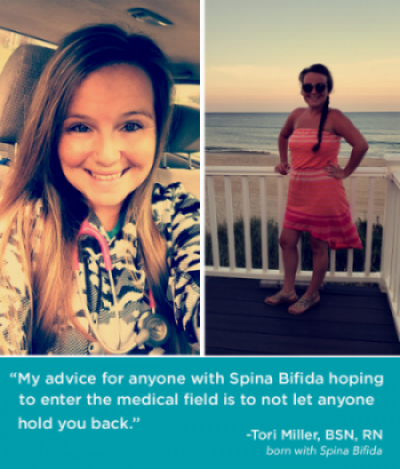 Up until I was a junior in high school, I thought I wanted to be a teacher. But then, I took an anatomy class in school and thought learning about the human body was really cool and decided that I wanted to be a nurse. When I went to my annual clinic appointment that year, I told the nurse practitioner about my career goals. She encouraged me to pursue nursing because having Spina Bifida, I could really empower others. 
I have been a registered nurse at a major children's hospital since 2015. I started out on the mental health floor, which I enjoyed because I have suffered from anxiety and depression since I was a teenager. However, my ultimate goal was to work on the neurosurgery/ neurology floor to help children with similar stories to my own. In November of 2016, that dream came true. 
I feel that having Spina Bifida has given me an advantage in my nursing career, especially in my current role, because I am able to directly relate to the patients I work with. I am very open about my story, and whenever I have a patient with Spina Bifida or a shunt, depending on their spirits I share my story with them and their parents. Even if my experience isn't exactly like theirs, I hope they can relate to me and that it's comforting for them to be in my care. My co-workers, especially when they are new, often refer to me to learn about shunts and other things some of our patients may experience. 
In March of 2017, I needed a shunt revision. Then, a follow-up visit determined that I needed another shunt revision. During that hospital stay, I ended up having a seizure, which was very scary. I was an inpatient at the hospital that I work at and that was a weird experience. I felt almost helpless. I am a nurse on the neurology/neurosurgery floor, but everything I was experiencing was out of my control. However, the experience was also comforting in a way because I knew the people caring for me cared on a personal and professional level. I was also very familiar with all of the policies and procedures and knew what to expect. Working directly with the doctors that care for me in the clinic can sometimes be intimidating, but at the same time, there is a level of comfort as well. I am at-ease going to them with issues I need to figure out in order to advocate for my patients. 
I am currently in graduate school to become a Family Nurse Practitioner so that I can treat people of all ages, including adults with Spina Bifida, like myself. I finish at the beginning of next year and my ultimate goal is to be a nurse practitioner in the Spina Bifida clinic at my workplace. I am very lucky that my hospital has a Spina Bifida clinic that treats people of all ages. It's important for doctors to continue seeing patients into adulthood because they are familiar with their stories and can provide continuity in their care. 
My advice for anyone with Spina Bifida hoping to enter the medical field is to not let anyone hold you back. When I was born, my parents were told that I would never walk and they weren't sure how I would be intellectually. But growing up, my parents never treated me like I have Spina Bifida. There are things I can't do, but I don't let my disability define me or hold me back. 
-Tori Miller- Tori Miller, BSN, RN, Nurse with Spina Bifida