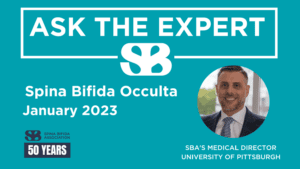 The Spina Bifida Association (SBA) is pleased to make information about Spina Bifida Occulta (SBO) available to our community. SBO is considered a mild form of Spina Bifida. It is a common condition and estimated to occur in one in 10 adults. While SBO does not usually cause health problems, there are those who have SBO and struggle with pain. For these individuals, the pain can be debilitating. SBA is committed to helping the community understand SBO, finding the right providers and treatment, and to being a resource for those who want to know more.
On January 19, 2023 SBA hosted an Ask The Expert session. Dr. Brad Dicianno, Associate Medical Director Spina Bifida Association and Director of the Adult Spina Bifida Clinic University of Pittsburgh School of Medicine, reviewed the SBO Decision Matrix for finding the right provider with information regarding workup and treatment, and answered every question posed by those who participated in the hour-long event.
There was a question about Currarino Syndrome that required follow up. Dr. Dicianno provided the following information. Currarino syndrome is sometimes called ASP triad (which stands for anorectal malformation, sacrococcygeal defect, and presacral mass) or the Currarino triad. There are three parts to this syndrome. First, there is a malformation of the anus/rectum. Second, there is a defect in the bony part of the sacrum. One example of a defect is sacral agenesis, which is a type of neural tube defect. Finally, there is also a mass in front of the sacrum. The mass can be made of different things, but one possibility is that is may be a meningocele, which is a type of Spina Bifida.
The following are links to the recording and the resources discussed during the Ask The Expert session. If you have any questions about Spina Bifida Occulta and/or would like to speak with someone regarding this condition, we urge you to contact the SBA National Resource Center at 1-800-621-3141, x800 or email at [email protected].
January 2023 Ask The Expert Resources:
The January 2023 Ask the Expert was a follow up to the November 2022 Community Information Session, also focused on Spina Bifida Occulta. Links to the SBO Community Information Session recording and resources are provided below.
November 2022 Community Information Session Resources: