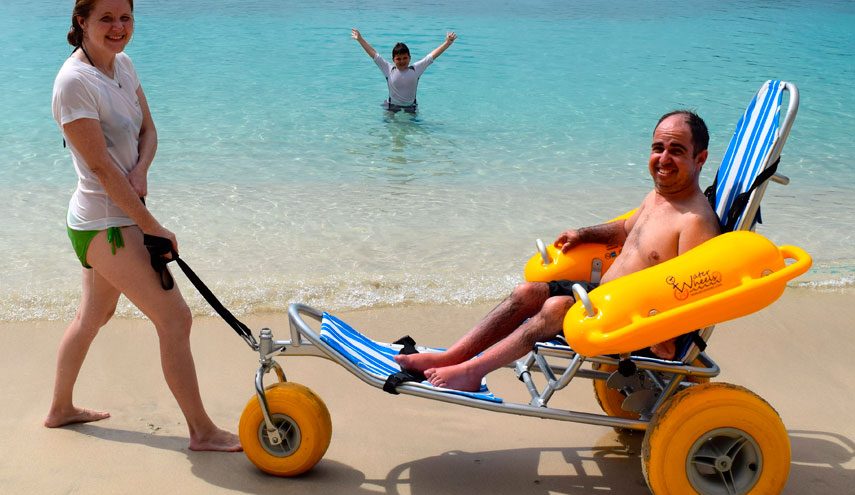 The weather is getting warmer, and summer is fast approaching. It's a fabulous time to get out and get active, and adaptive water sports can help you do just that.
Have you ever stared out at the water, sat listening to the waves on the beach, or dipped your feet in the ocean or a nearby pool? Water has calming properties. It can help reduce stress, anxiety, and depression. It's also a great means of low impact exercise, especially for those with Spina Bifida.
Water's buoyancy makes working out much easier on your joints, so it allows you to exercise with less worry about injuries. Aerobic activity in the water can also enhance your balance and coordination, improve cardiovascular strength, and even help you lose weight. Plus, water feels great on your body when it's hot outside!
Whether you're thinking about heading to a beach or planning another family vacation, we know there's a lot to consider when traveling with a disability. COVID-19 adds even more considerations. However, if you take safety precautions this summer, there's no reason you can't enjoy many forms of outdoor recreation.
If you're looking for an accessible beach, contact your local park district or coastal association for a list of beaches, paths, and boardwalks in the area. You can also contact the Department of Natural Resources or the National Park Service. Thanks to recent advances in adaptive sports technology, there are tons of water sports available. Start with a Google search for adaptive water sports in your state of choice. Alternately, you can find a piece of equipment you know you'd like to try and search for where it may be available.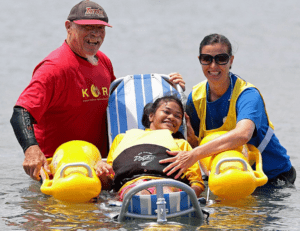 One of the most popular pieces of equipment used during the summer is the beach wheelchair. However, all are not created equal. Some are manual and some are battery powered. Some are for on-the-sand only, and some are for on and off the sand. Some can float and get wet, and some cannot. Before making an investment, we recommend thinking about how you want to use the wheelchair, where you want to use it, and how much you have to spend. Beach wheelchairs can range from $1,000 to $14,000.
One of the most comprehensive chairs on the market is WATERWHEELS®. It's a floating beach buggy that allows users to easily trek over the sand and into the water. Made by AccessRec, the armrests and wheels serve as flotation devices. The chair also folds easily to allow for convenient transport in any type of vehicle. It retails just under $2,000.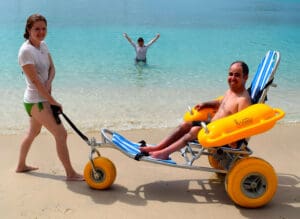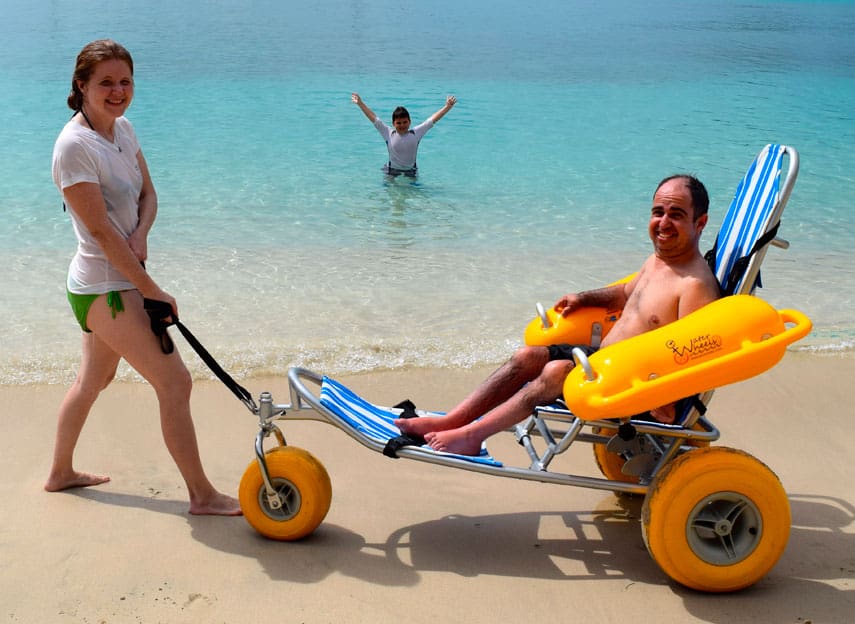 During the month of May, SBA community members can use coupon code SBA2021 to get 15% off the purchase of a WATERWHEELS® buggy or a TERRAWHEELS® all-terrain wheelchair. AccessRec will also donate 10% back to SBA for all purchases made using the same coupon code.
Of course, you can also travel to a location that has beach wheelchairs to rent or borrow. Many parks, recreation areas, lakes, rivers, and beaches are investing in this type of equipment to make their facilities move accessible and to attract more visitors. WATERWHEELS® can be found at the beaches in Ashbury Park, NJ; Magen's Bay in St. Thomas in the U.S. Virgin Islands; the beaches in Corpus Christi, TX; Carolinas Beach in Wilmington, NC; and Prince Edward Island, Canada, just to name a few locations.
You can also try surfing, sailing, scuba diving, kayaking, windsurfing, water skiing, or more. As with any new form of exercise, you'll want to consult your doctor before starting a new activity. And for safety reasons, always avoid being in the water alone. But you don't need to be an athlete to participate in many of these adaptive adventures. Just trying them once can help improve self-esteem, boost confidence, and increase life satisfaction.
So, start making plans to get out and get in the water this summer. You won't regret it!
SBA is grateful to the many foundations, corporations, and other entities whose generous support enables us to continue our work on behalf of the Spina Bifida community. Inclusion of the name or logo of a corporation, foundation, or any other entity (or information about a product or service that a corporation, foundation, or any other entity offers) on SBA's website or within SBA materials, does not imply endorsement indirectly or directly by SBA.