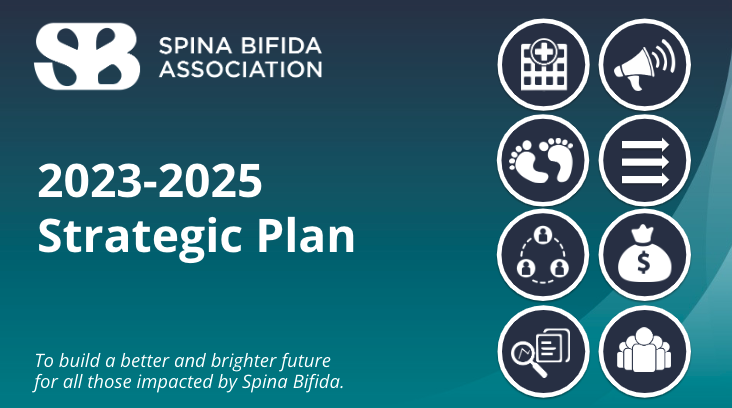 By Mike Wood
Chief Operating Officer
As we begin the celebration of the Spina Bifida Association's 50th Anniversary, I am excited to release our new three-year strategic plan—the clearest articulation to date of not only our values, but the outcomes we want to achieve together for people with Spina Bifida. 
Developed over months by engaging people living with Spina Bifida, their care partners, clinicians, and national and local partners, this is very much a shared plan of action. To put it together, we asked two basic questions: 1) What do we want to be true for people with Spina Bifida; and 2) What do we need to focus on externally and internally in order to make it happen? These questions led us to make necessary choices about where we can collectively have the most impact and improve people's lives.
While we will continue to support anyone and everyone with Spina Bifida, we will focus over the next three years on two critical stages along the lifespan: Diagnosis to three months and transition to adulthood. 
We will work to ensure that anytime a diagnosis of Spina Bifida is delivered, expectant parents are given the full range of options available to them and that they understand a child with Spina Bifida can lead a joyful and highly productive life. We also will work to ensure that if those parents have a child with Spina Bifida, they are connected to a Spina Bifida clinic within the first three months so they have the support they need. It's important that every child with Spina Bifida and their families get off to the right start in life. 
There have been great strides made in pediatric Spina Bifida care, but there are far too many adults in our community struggling to access that same level of care. There are around 100 pediatric Spina Bifida clinics, but only around 30 for adults. Most adult providers have no idea how to care for people with Spina Bifida or coordinate their care. To make matters worse, insurance often fails to cover the devices, medications, or care adults need. 
This is unacceptable, and we're going to do something about it. 
There is no single solution to the adult care crisis, so we intend to tackle it through a variety of means, including developing Spina Bifida 101 training for care providers, developing a professional consultation hotline so providers can get peer support, and pursuing legislative and regulatory reform to improve insurance coverage and expand healthcare access. In three years, our hope is that we've reduced or eliminated this care gap for as many adults in our community as possible.
We have also identified in the plan several "cross-cutting" outcomes we hope to achieve that are critical to addressing both the diagnosis to three months and adult care challenges. These include developing more data on people with Spina Bifida; advancing our community-centered research agenda; increasing education and awareness of Spina Bifida among key populations; and strengthening the networks of people with Spina Bifida for peer-to-peer education and support.  
This plan is really a call to action, because none of this can be achieved by one organization or individual. It will take the collective work of SBA along with our community of volunteers and partner organizations to address these challenges, which is why we were so intentional about creating it with so many. 
I'd like to personally thank all the volunteers who were part of shaping this plan either directly or by providing input through a phone call or conversation. I'd also like to thank David Moore and Jacquelyn Miller of Moore Strategic LLC, who facilitated the planning process. 
Please take time to read the plan and let us know if you have any questions or would like to be part of helping us, either by donating or volunteering your time and expertise. Together, I know we can make a difference.