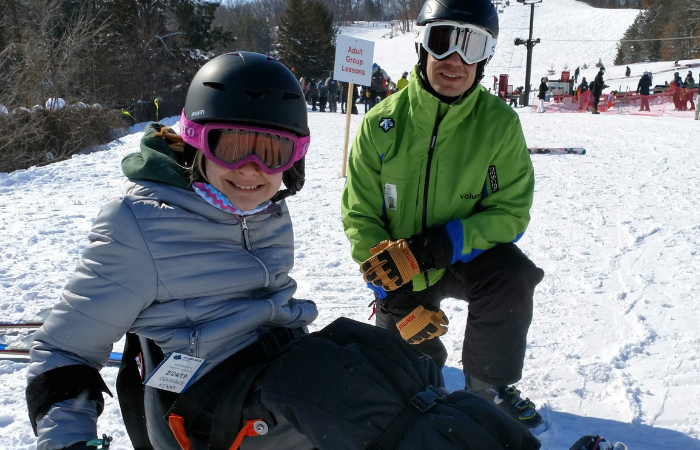 Jamie is the mom of an amazing athlete, her 13-year-old daughter, Kenzie.
When Jamie and her husband were expecting their first child, they found out at their 20-week appointment that their daughter was going to be born with Spina Bifida. They experienced many emotions with this news, but Jamie will always remember her thoughts around sports. She remembers thinking that Kenzie would grow up without sports and that she would miss out on all the connections you get from playing youth sports.
Fast forward seven years, when Kenzie was in first grade, they decided to check out a wheelchair basketball program. Kenzie had recently had surgery and she had a cast on her leg, and they were like it doesn't matter just get in the chair and try it out. And now basketball is Kenzie's passion. She currently plays varsity for the MN Junior Rolling Timberwolves and wants to eventually play for the University of Alabama, with other dreams of playing for the US Paralympic basketball team. 
While basketball is Kenzie's passion, she is also involved in sled hockey, tennis, softball, downhill skiing, horseback riding and swimming. She is involved in a lot of activities which means she is always on the go as well. Kenzie has been able to be so involved with all these activities because of the independence that intermittent catheterization has provided to her. It has created avenues and pathways that she never knew were possible and given her confidence.
Kenzie's journey to independence was not always easy. As a mom when you have a 1-year-old or 2-year-old that you must intermittent catheterize – it can be terrifying. People would remind Jamie that one day Kenzie would gain the confidence and independence to catheterize on her own, and it slowly began to happen.
When Kenzie was in 5th grade, the school nurse was a great advocate to help her get independent and going to Spina Bifida camp also helped because she was gone for a week. Coloplast's SpeediCath® Compact Female* was really the turning point for Kenzie. They are excellent for catheterization because they are so little, and they are easy to maneuver. Before finding a solution that worked well for Kenzie and Jamie, there were frustrations with using leg mirrors and other items to catheterize – but now Kenzie has the confidence to catheterize on her own.
Kenzie is completely independent with her bladder and has the confidence now to live the life that she wants. 
Learn more about SpeediCath® Compact Female catheters and request a free sample** on the Coloplast website here.
*Kenzie is a SpeediCath® user who has received compensation from Coloplast to provide this information. Each person's situation is unique so your experience may not be the same. Talk to your healthcare provider about whether this product is right for you.
**Prescription required to sample products. Limitations apply.
This blog is sponsored by Coloplast Corp.