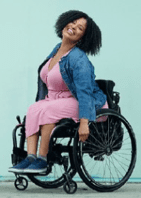 Tatiana was born with Spina Bifida and has always used a catheter. She grew up using a walker, crutches, and a wheelchair for mobility and never considered herself different from anyone else. "I wanted to keep up with everyone else," she says. "I didn't see myself as the person who wasn't included. I was going to find a way to be included." She didn't learn to self-catheterize until her mother told her she would have to learn if she wanted to go to sleepovers with her friends. "It was this whole medical procedure with a long catheter, lube, gloves, wipes. It was very intimidating," Tatiana recalls of her training experience.
As an adult, Tatiana has an active lifestyle as an actress, model, and influencer. When Tatiana is out on projects for work, she carries extra supplies, which previously included long catheters. Catheterizing away from home raised hygiene concerns, and she also found it to be inconvenient. "I found it very frustrating to have to carry all these things," she explains.
Tatiana discovered the SpeediCath® Compact Female catheter at an Abilities Expo, and she was immediately excited to try it. "I thought it was so cute because it was literally the size of a lipstick," she comments. "It is small, compact, and designed for me as a woman."  She liked that the catheter was easy to take with her, was already lubricated, and allowed a no-touch insertion. She notes, "It really made me feel empowered as an independent woman."
—————————–
Get intermittent catheterization product and lifestyle support for FREE by contacting Coloplast® Care:
Call 866-226-6362 or visit www.bladder.coloplastcare.us
Tatiana is a Coloplast user who has received compensation from Coloplast to provide this information. Each person's situation is unique so your experience may not be the same. Talk to your healthcare provider about whether this product is right for you.
Please see complete product instructions for use, including all product indications, contraindications, precautions, warnings, and adverse events.
Information from Coloplast Care is for educational purposes only. It is not intended to substitute for professional medical advice and should not be interpreted to contain treatment recommendations. You should rely on the healthcare professional who knows your individual history for personal medical advice and diagnosis.
This blog post and content is sponsored by Coloplast.