This month, six people from the Spina Bifida community will be hiking and rolling through the Grand Canyon. Yes, you read that right, the Grand Canyon!
We are excited to host our first all-abilities endurance hiking adventure through the Grand Canyon in Arizona. All six participants kicked off the year with a fundraising campaign and a multi-month physical training program. Starting April 25, these team members, from across the country, will embark on the adventure of a lifetime.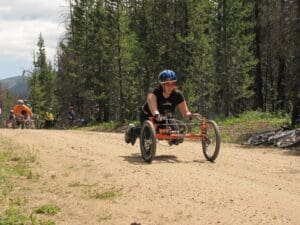 The majority of this year's participants are adults with Spina Bifida, while the remaining participants are family members of someone living with Spina Bifida. Several members of this year's team shared their motivations for participating in this year's inaugural event, and we hope you'll feel just as inspired to support them along their journey as we do, including team members;  Mary Helen Biller (IA), Shannon Tuttle (FL), Eric Tobin (CA), Jody Larson (ND), Gabriela Rodriguez (TX), and Shannon Bevans (FL).
What made you interested in joining SBA's Grand Adventure Program?
MHB: What made me interested in SBA Grand Canyon Challenge, was the fact, that The Spina Bifida Association of Iowa has done so much for me, in the last 7 years, since I've joined this amazing organization. I've had the opportunity to meet others facing the same challenges and issues that I've been facing my entire life. I've also had wonderful opportunities, that I never thought I would ever have. And, it's all because of The Spina Bifida Association of Iowa/America. I felt it was time for me to give back. They are an amazing group of people, that I'm proud to call me friends.
ST: I was compelled to join the Grand Adventure to represent the parents of children with Neural Tube Disorders. I have a daughter with Spina Bifida and a son with Sacral Agenesis. While doing that, I hope to push myself mentally and physically.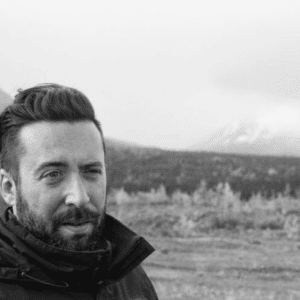 ET: Clearly I like to scare my friends and family; it's my only motivation. Ok, Ok – I enjoy a good adventure, and this seems like one that fits in with the year's goals – I intend to walk to Mt Everest Basecamp in October. So a great adventure that fits the year's goals and connects with raising funds for SBA and inspiring a few folks to get out there and do the same is motivation enough for me. 
JL: I am doing the "Grand Adventure" because I love adventure!  I love to travel and experience new things. The bigger the adventure, the better!
GR: This is very personal for me because my great-niece, Aaliyah, was born with Spina Bifida and has lived in my home since she was two years old. Aaliyah did not start walking or talking until she turned three years old.  She is now eight and has overcome so much! She is determined and a fighter, and from the photos below she continually conquers all her challenges with a great attitude and smile! She is my inspiration!
SB: I am doing this adventure because it is a physical challenge. Fitness is such a huge part of my life, and I truly believe that staying active has kept me from many of the health problems that people with Spina Bifida encounter in their adult years. I am on a mission to prove that people with disabilities are capable of achieving difficult physical obstacles.
What are you looking forward to during The Grand Adventure?
MHB: I'm looking forward to meeting a great group of people and making new friends. To have an opportunity such as this, that I never thought I would get the chance to experience. I've never been to the Grand Canyon, even just to see it. To experience it with people, facing the same challenges that I face, as well. So, the realization that I will have the opportunity to actually hike it, is a dream, I never thought would be a reality. And, to share it with my niece. As it will be her first Grand Canyon experience, just makes it even more special.
ST: I'm looking forward to meeting people from all over the country that have Spina Bifida and seeing them (and myself) conquer hiking in the Grand Canyon.
ET: Not falling off the side of the cliff… too dark? In all honesty, I am currently enjoying, as well as looking forward to the ongoing training. Day jobs, home repairs, doctor appointments, life (name the issue parading around as my excuse) it's hard to find time to focus on a real big life "explore the world" goal, especially one that connects to something incredibly important to me. Having the "canyon adventure" on the calendar is this amazing looming parental reminder, "get out of bed! Get in shape! Stop with the pizza!".
JL: I am looking forward to meeting the people on my team and spending time in that beautiful landscape of the Grand Canyon.
GR: I am looking forward to bringing awareness to Spina Bifida and help fund this great organization, Spina Bifida Association (SBA)!  My family and I have participated in many of their activities and information sessions. "Paying it forward" motivates me as I raise funds to help SBA continue in their great work!
SB: I am looking forward to experiencing the Grand Canyon! I have never been before, and it is on my bucket list to hike.
Why do you think SBA's Grand Adventure is Important?
MHB: I feel that the SBA's Grand Canyon Adventure is important because, it lets those living with Spina Bifida and those around us, realize that anything is possible, and where there is a will, there is a way, for everyone, to be included. Because, we all deserve to have the same opportunities, experiences, and fun, as everyone else. We all as humans, deserve the same opportunities, given to us. To just have fun and live our lives to the fullest. 
ST: I think this Adventure is important to raise awareness for Spina Bifida. I knew barely anything about Spina Bifida when I was pregnant with my daughter. I learned a lot by reaching out to people in Central Florida through the local chapter of the SBA. I was able to see that my daughter could conquer anything. I've watched her run, walk, and dance. I want parents who receive this diagnosis from knowing that our kids are special and can do anything they set their mind to. I had a baby just three months ago, and my daughter and son are joining me as I train.
ET: Building awareness for Spina Bifida has become an important mission for me in the last few years. Any chance I can spread the message to friends, family, and strangers is one I take. Hopefully, the more awareness we build, the more voices we recruit, the more we build a case for increased education and if we are successful, universal health care comes with and helps more than just those with Spina Bifida.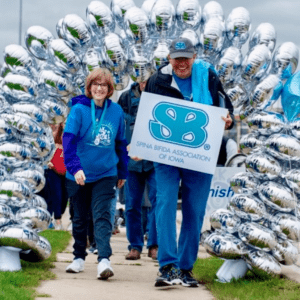 JL: As I have been talking to people about the event and share information about Spina Bifida.  My fundraising "Adventure" has helped me share my story. I've been interviewed by my hometown newspaper (where I still have family). I have done one presentation to a community group and plans to be interviewed by my current hometown paper.
SB: This adventure is important for several reasons. One, it is important to show people that individuals with disabilities are capable of doing difficult things. It is essential to show people that all obstacles are possible if you put forth the effort. I pride myself in being a role model for adults living with Spina Bifida, and much of this is attributed to the fact that  I have lived an active life, despite my disability. It is such a great way to raise important funds to support this community.
All of these dedicated team members have been working hard to achieve their goals, both physically and financially. To donate in support of their efforts, please visit this website. For general information about The Grand Adventure, click here.