For Immediate Release
Contact: Sheliah Roy
Spina Bifida Association
Subject: The Spina Bifida Association Presents Awards During Advocacy Event
[ Arlington, VA, June 11, 2019] –On May 8, during the Celebration Dinner at the second annual Teal on the Hill, The Spina Bifida Association gave out awards to Chapters and individuals who exemplify what it means to be a dedicated member of the SBA and the Spina Bifida community at large. A committee chose winners, and each award had a set of criteria that nominees met.
The first award of the evening was the Volunteer of the Year Award. This year's recipient was Joanne Hurtekant, from the Spina Bifida Association of North Texas (SBANT). Joanne has been a volunteer for SBANT for over 30 years. She is a mother of three, including her son Robert, who has Spina Bifida.  Through her years of service, Joanne has served in many capacities, including; chapter president, chairing many committees and the establishing and running of Camp TLC summer camp. She is currently an Ex-Officio member of SBANT's Board of Directors.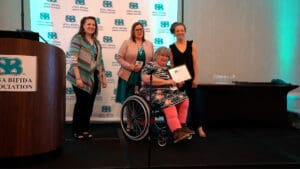 The Chair's Lifetime Achievement Award is presented to the individual or individuals who, throughout a lifetime, strived to meet the mission of SBA through distinguished service, and has worked to improve the lives of people with Spina Bifida. This year's recipient was Julie Yindra. She is an adult with Spina Bifida and a former member of the SBA Board of Directors. While on the board, Julie developed and led many educational initiatives for adults with Spina Bifida, as well as parents of children with Spina Bifida. Julie is a mentor to the Spina Bifida community and a persistent and effective advocate.
The recipient of the Chair's Extended Service Award is a person or persons who have dedicated their time and their efforts to the mission of SBA.  This year's, the recipient was Monica Albert Still, RN, BSN. Monica is a founding member and co-chair of SBA's Adult Advisory Council. Monica leads the group in ensuring that SBA continues to work to meet the needs of the growing adult population of people with Spina Bifida. As a long-time home health care nurse and an adult with Spina Bifida, her knowledge has helped a tremendous number of people with Spina Bifida and their families with complex questions, such as those relating to insurance and Medicare.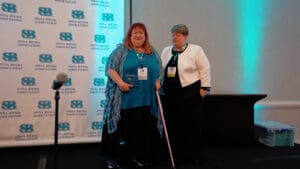 The Chair's Excellence Award is presented to an individual or individuals who have made a meaningful contribution to the understanding and appreciation of Spina Bifida by the general public and others. This year there were two recipients, Colleen Payne, and Amanda Kern. Colleen is a long-time SBA volunteer who has provided insight from parents with children from Spina Bifida, developed material for parents receiving a diagnosis and worked on SBA's NICU information sheet. Amanda Kern has been an important voice and face in and for the Spina Bifida community since her son Chance was born, over 10 years ago.
To create awareness and support her local community, Amanda began photographing children born with spina bifida and their families. In 2014, Amanda, along with her network of photographers, writers, and advocates from the Spina Bifida community, founded the nonprofit organization, Redefining Spina Bifida, which shares photos that display the authentic trials and triumphs that come with living with Spina Bifida. Amanda's work with the SBA has transformed our awareness and communication efforts and strengthened our online presence in the Spina Bifida community by creating resources, telling meaningful stories, and advancing advocacy during Spina Bifida Awareness month and beyond.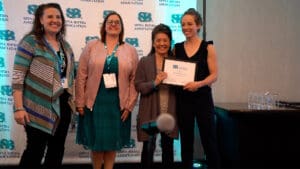 A new award presented this year was the Thomas Baroch Advocacy Award. Named for Tom Baroch, an adult with Spina Bifida and staunch advocate for the community, who passed away in November 2018. This award is presented to an individual or individuals who have had a significant and lasting impact on advocacy and other policy issues affecting the lives of people with Spina Bifida. This year's recipient was Donna Cruz Jones, for the significant advocacy contribution to the Spina Bifida community on the national level. On April 9, Donna testified before the House Subcommittee on Labor, Health and Human Services. Her testimony helped to spearhead a recommendation from the House of Representatives for a $2 million increase in funding for the National Spina Bifida Program at the Center for Disease Control and Prevention.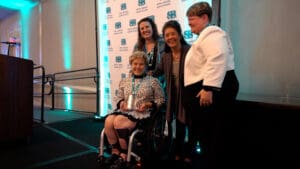 The award for Outstanding Program for Adults went to the Spina Bifida Association of Central Florida, in recognition of their Health Wellness Program. The creation of this program was based on the idea that the health of adults living with Spina Bifida depends on more than just a network of medical professionals – that adults can develop, and independently maintain the skills to keep themselves as healthy as possible. The program includes workshops on healthy eating, Zumba classes, and other exercise and recreational activities.
The SBA Award for Outstanding Program for Children went to the Spina Bifida Association of Alabama for their Camp VIP Program. SBA of AL's Camp VIP is the only camp in the state of Alabama that serves children explicitly with Spina Bifida. Camp VIP moves into its 9th year in 2019 and serves over 35 families each year. The three-day camp experience helps families learn how to treat secondary issues related to Spina Bifida, including bowel and bladder complications, wound care, and mobility issues. Camp sessions include an educational focus but also give children a chance to have a fun-filled weekend.
The Spina Bifida Association of Alabama was also recognized with the award for Outstanding Awareness campaign, for their efforts of the awareness campaign titled, "I can. I will. End of Story." They launched a series of videos throughout Spina Bifida Awareness Month in October highlighting families and individuals sharing the ways they had overcome the challenges of living with Spina Bifida, all tying back to the message "I can. I will. End of Story." Beyond the video component of this campaign, the SBA of Alabama also had community groups, including; schools and businesses, hand out flyers, shirts and bracelets promoting the "I can. I will. End of Story" theme.
The SBA Award for Innovative Programming went to the Spina Bifida Association of Kentucky for their "Giving Back and Growing Up" programs, a pairing of two initiatives that serve multiple segments. The "Growing Up with Spina Bifida" program is designed for elementary- and middle school-aged children and their parents. While parents learn and discuss critical care topics with other parents and adults with Spina Bifida, children simultaneously experience hands-on learning about their Spina Bifida. The "Giving Back Group" was established to give teens and adults with Spina Bifida a place to develop new friendships, become mentors, and make a difference through volunteering and raising awareness. The group supports the Growing Up group through mentorship of both children and parents.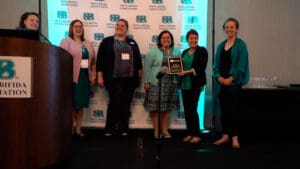 SBA is grateful to these individuals for their contribution to the Spina Bifida community and our mission.
About the Spina Bifida Association
The mission of the Spina Bifida Association is to promote the prevention of Spina Bifida and enhance the lives of all affected. We work to make a practical, positive difference every day, helping to improve care so individuals can enjoy life to the fullest. The Spina Bifida Association (SBA) provides information, resources, assistance, advocacy, and connections to help all those affected by Spina Bifida.
###