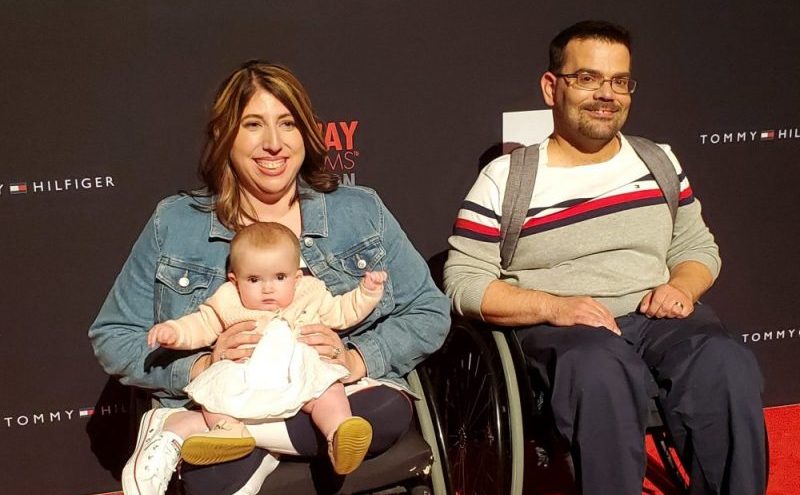 Back in the spring, we told you the story of the Peterson family from Indiana. Larry and Kelly are both adults with Spina Bifida, and they recently adopted a baby girl who also has Spina Bifida. They commemorated the adoption with a photo that exposed the scars on each of their backs. The photo ended up going viral, raising awareness about adoption and parenting with Spina Bifida. They also run a Facebook page that updates followers on their daughter's health and development. 
The Peterson's daughter is now 10 months old and doing great! Back in June, she had successful open-heart surgery to repair a hole in her heart. Last month, she started physical and occupational therapies to improve her gross motor and eating skills. 
In September, the family had a special opportunity to raise awareness about Spina Bifida at New York Fashion Week. While at a conference, their adoption agency was approached by an organization, called Runway of Dreams, about the family participating in a fashion show that showcases adaptive clothing. "The Peterson family was such a joy to work with for the adoption of their little girl. While some agencies may see only the challenges they might face as parents, we focused on the unique insight and strength only they can provide their daughter. When we were asked about knowing a family that might be a good fit for Runway of Dreams, it was immediately clear that the Petersons were a perfect match. It was an honor to work with them in New York so that they could show off their beautiful family!" said Jennifer Kelly, Medical Director of Special Angels Adoption.
Runway of Dreams was founded in 2014 by Mindy Scheier, after her son, who was born with muscular dystrophy, expressed a desire to wear jeans to school, like his friends. The Petersons have survived without adaptive clothing, but finding clothing can still be a difficult task. "Companies like Runway of Dreams are important because people with disabilities like to dress nice like everyone else," Kelly said.