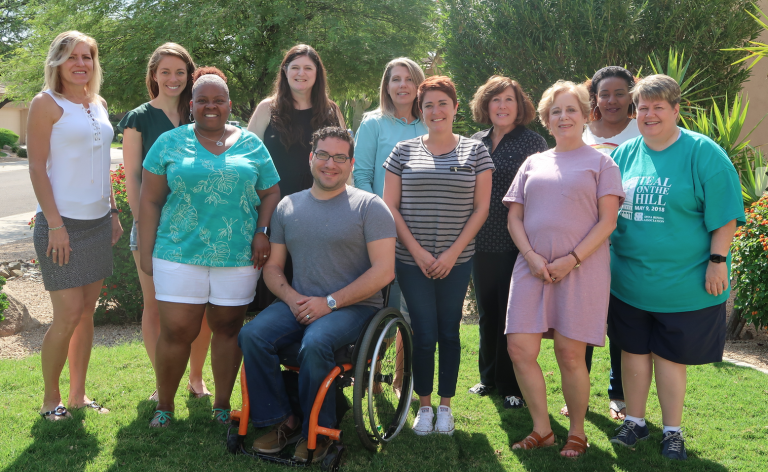 Last week, SBA hit the road and traveled to Phoenix for the 12th annual Leadership Institute.
The Leadership Institute began as a natural progression from years of Chapter development programs and has unfolded as a wonderful tradition that SBA finds key to its success.
Chapter Executive Directors, Board members, Advisory Council members, Executive Directors, SBA staff – we all come together from across the country to explore different facets of strategic planning, fundraising, marketing, governance, and more. We are in and out of expert training sessions, assessments, and presentations – working from sunup to sundown (literally).
Here's what you need to know about Leadership week with SBA:
The first half of the week is spent with Executive Directors from 10 different Chapters. These Directors are some of the hardest working individuals you could ever shake hands with.  Chapters typically serve upwards of a thousand people, and almost all of them operate as a one-person staff.
This week gives Directors the opportunity to connect with one another, collaborate, and learn from similar programs and new opportunities.
Most importantly, this week served as a place where the people who are dedicated to serving the Spina Bifida community come together and collaborate on organizational programs, events, and services to better serve their Chapter and Chapter members.
"This retreat isn't just about collaborating and learning from each other, but collaborating to improve our events and programs so that they can better serve our constituents and truly make a difference." – Robin Lee, Executive Director, North Texas
If you're a member of one of the Chapters below, find your Director and thank them for their work! These Directors are working passionately, and tirelessly for you!
Executive Director Attendees:
The second half of our week brings together Advisory Council leaders from California, the Intermountain Region, Michigan, Mid-Atlantic Region, North Carolina, and South Carolina.
Chapter volunteers, adults with Spina Bifida and parents of children with Spina Bifida, participated in roundtable discussions, presentations, sharing, role-playing, and more.
"As an advisory council member, I really love being at Leadership Week because I meet other leaders from across the country who have a common interest and dedication to serve their local Spina Bifida community. We get to collaborate and energize each other, we learn new things, we learn from each other, we learn new things, and we get to take all of these lessons and energy back to our local Chapters to start something that will help us achieve our goals." – Anna Hairston, Advisory Council Member, SBA of California
And say thanks to your Advisory Council Members who gave up their weekends to work, and plan for their Chapters:
Together, we are all working to advance Spina Bifida research, advocacy, education, and support. As leaders in this community, we face similar challenges, as do our community members.
Without funding, there's no research, without research, there's no answers, and without answers, there's little change – and that's why we're here! We want to change the lives for the better of all those affected by Spina Bifida. And that's what this week is about, we are all working to improve, progress, and strengthen our organizations to better serve and enhance the lives of all those in our Spina Bifida community.