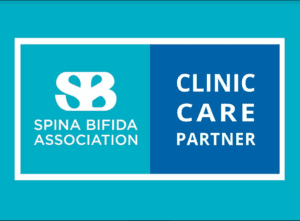 The Spina Bifida Association (SBA) Clinic Care Partner program is an initiative that stems from the existing Spina Bifida Collaborative Care Network (SBCCN), a program that works to identify the needs of people with Spina Bifida, connect with health care providers, identify clinics with the best outcomes, and identify research priorities.
There are 37 clinics from across the country that met 10 standards identified as best practices to care for people with Spina Bifida. These clinics have dedicated health care professionals who partner with people living with Spina Bifida and their families to provide expert care and help identify research priorities.
Clinic Care Partners will collaborate with other providers and SBA to share ideas with a national network of providers that have also been recognized as SBA Clinic Care Partners. During this five-year partnership, they will implement best practices that ensure people with Spina Bifida receive the best care possible to have fulfilling lives.
The application period for 2022 SBA Clinic Care partnership is ongoing.
The  Clinic Care Partners are:
Children's of Alabama – Birmingham, Alabama
The University of Alabama at Birmingham – Birmingham, Alabama
District Medical Group – Phoenix, Arizona
Phoenix Children's Hospital – Phoenix Arizona
Arkansas Children's Hospital – Little Rock, Arkansas
Kaiser Northern California Regional Spina Bifida Program – Oakland, California
Loma Linda University Children's Hospital – Loma Linda, California
Children's Hospital Los Angeles – Los Angeles, California
Shriners Hospitals for Children, Northern California – Sacramento, California
UCSF Benioff Children's Hospital – San Francisco, California
Stanford University – Palo Alto, California
Children's Hospital Colorado – Aurora, Colorado
Connecticut Children's Hospital – Hartford, Connecticut
Orlando Health Arnold Palmer Hospital for Children – Orlando, Florida
Ann & Robert H. Lurie Children's Hospital of Chicago – Chicago, Illinois
Riley Children's Hospital – Indianapolis, Indiana
Children's Hospital New Orleans – New Orleans, Louisiana
Kennedy Krieger Institute – Baltimore, Maryland
Boston Children's Hospital – Boston, Massachusetts
Gillette Children's Specialty Healthcare – Saint Paul, Minnesota
Children's Mercy Kansas City – Kansas City, Missouri
Golisano Children's Hospital – Syracuse, New York
Duke University Hospital – Durham, North Carolina
Cincinnati Children's Hospital Medical Center, Cincinnati, Ohio
Nationwide Children's Hospital – Columbus, Ohio
Oklahoma University Children's Pediatric Urology – Oklahoma City, Oklahoma
Oregon Health and Science University, Portland, Oregon
Penn State Health – Hershey, Pennsylvania
Children's Hospital of Philadelphia – Philadelphia, Pennsylvania
University of Pittsburgh Medical Center – Pittsburgh, Pennsylvania
UPMC Children's Hospital of Pittsburgh – Pittsburgh, Pennsylvania
Texas Scottish Rite Hospital for Children – Dallas Texas
Cook Children's Medical Center – Fort Worth, Texas
Texas Children's Hospital – Houston, Texas
University of Texas Spina Bifida Clinic – Houston, Texas
Primary Children's Hospital/Intermountain Healthcare – Salt Lake City, Utah
UW Health/American Family Children's Hospital – Madison, Wisconsin
Children's Wisconsin – Milwaukee, Wisconsin